Below is a version of the documentary from several years ago. We are working on a much updated version with more interviews and drone footage of the Fishtown area. There are more Fishtown resources below:
Fishtown poet Robert Sund reading a couple short poems in the early 90s
There's a good
Wikipedia article on Fishtown.
Short clip of Robert talking to Margaret Lee, neighbor of Fishtown
Here's a
blog with entries regarding Fishtown citizen Hans Nelson.
There was a
Fishtown show
at Kobo gallery in 2007.
Fred Owens has written on topics
relating to Fishtown. Step carefully.
A
memory of a boat trip
to Fishtown.
Images of the beautiful
Skagit Valley.
Charles Krafft,
mayor of Fishtown and one of the 37 least powerful people in Seattle.
Profile of
Charles Krafft.
Wikipedia article
on Fishtown.
VR images of the
2010 Fishtown Show
at the Museum of Northwest Art in Laconner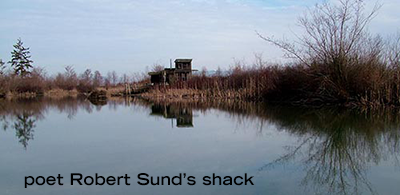 Please share with me any items or people that you believe should be included.
In particular, we need photos of the shacks at Fishtown. Please let me know if you know of anythat you might have or the location of others...thanks!
Thanks to all of you who have supported the project in the past. It is moving ahead. I have recently received footage of Robert Sund circa early 90s. Please sign up for our mailing list.

People always ask me how they can get to Fishtown. The answer is that you can't. It exists only in memory and the work that was done there.

I am a recipient of a generous grant from 4Culture; I am currently working on funding for the rest of the film. If you have materials or can be of help in any way please contact 206 399 2010 or email pcford@criterionweb.com

Donations cheerfully accepted below. Thank you!